As the New Year Approaches, I have decided to list 11
of the best of 2011!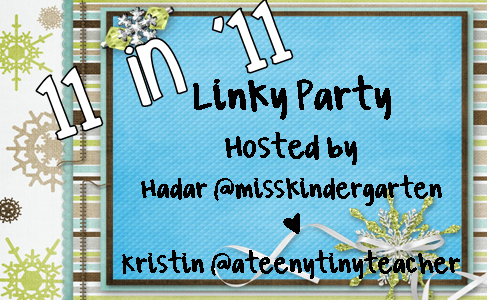 11. Favorite movie you watched:
My favorite movie from 2011 was.........Well I haven't been to a lot of movies this year, the latest movie I watched was Chipwrecked. I loved it because I was with my family and it's just a cute little movie.
10. Favorite TV series: My favorite show to watch is The Big Bang Theory. So Funny.
9. Favorite restaurant: My Favorite restaurant would have to be Damon's Famous Fingers and Wings (My son works there)
8. Favorite new thing you tried:
My Favorite thing I have tried would have to be blogging and Pinterest. Both are very addicting!!!
7. Favorite gift you got:
Paint, paint, paint.....I am now painting my house. That makes me happy
6. Favorite thing you pinned:
I'm so sorry, I can think of just one. THERE ARE SO MANY!!!!!!

7. Favorite Blog Post:
Hmmm... Now that's another hard one I would have to say
That was a post that the most people seemed to like.
4. Best accomplishment:
Getting my walls painted in my house!!!

3. Favorite picture:
A Picture of My Family
2. Favorite memory:
My favorite memories is those of my times sitting around with my nieces, nephews, sisters, kids, and family laughing and having a good time. Never take any of them for granted! My Daddy is currently fighting the fight of his life and I want to make every memory I can. Love You Daddy.

1. Goal for 2012:
To just feel better and be the best wife, mother, aunt, daughter and teacher I can be!!!!

Love.
Mrs. Ring